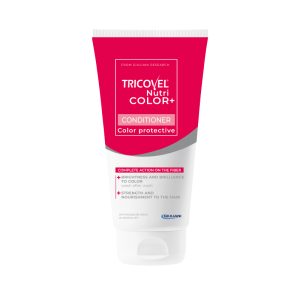 With Tricovel® Nutri Color Conditioner, dye after dye, your hair is always bright and silky.
Tricovel® Nutri Color Conditioner is the second step of the post-colouring beauty and protection programme recommended by Giuliani Anti-Hair Loss Research. The application of the strengthening and protective conditioner after Tricovel® colouring treatment, which is itself developed to nourish and protect hair, enables to prolong hair colour brightness over time and to preserve the strength of coloured hair.
Dyeing after dyeing, hair seems to lose its original brightness? With targeted cosmetic products, specifically designed to take care of coloured hair, it is possible to strengthen the hair fibre and enhance the colour brightness.
Innovation
Tricovel® Nutri Color Conditioner helps to untangle hair without weighing it down and performs a valuable strengthening and protective action on the hair fibre.
Its new formula is enriched with a unique system of patented and select ingredients for an even more complete protective action:
SincroBiogenina – exclusive patented antioxidant complex, which protects and preserves the hair strength.
Hair Barrier Complex – complex of ceramides that, reproducing the hair barrier, restructure the fibre and fix the colour.
Abyssinian Crambe Oil – nourishes hair, gives softness and enhances the colour brilliance.
When, how
How to apply?
Apply the product to wet hair after shampoo, leave in for 2-3 minutes and then rinse thoroughly.