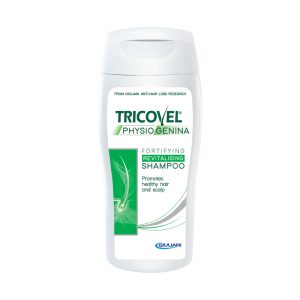 How to revitalise weak hair?
Thanks to the innovative formula of Tricovel® Fortifying Shampoo with Physiogenina
Season changes, unbalanced diet, sun exposure, not to mention stress and frenetic rhythms that we have to deal with every day: these and other factors can compromise, in the long term, the quality of our hair that, day after day, appear increasingly weak and fragile, with a tendency to fall out. In these cases, in addition to following Tricovel® specific treatments with food supplement or vials, the ideal is to strengthen hair even during the cleansing phase.
How to revitalise weak and fragile hair by acting from the outside, in order to restore its well-being and beauty? With a product such as the Fortifying Shampoo of the new Tricovel® Physiogenina cosmetic line. The Fortifying Shampoo combines the effectiveness of Physiogenina, a cutting-edge complex, fruit of the most recent discoveries in the trichological field, with a mix of select components to take care of the hair fibre. Specifically designed for weak and brittle hair with a tendency to fall out, and to complete the action of Tricovel® food supplement and vials.
Tested under dermatological control and formulated to minimise the risk of allergy.
With Tricovel® Fortifying Revitalizing Shampoo with Physiogenina hair is beautiful, strong and visibly healthy.
Innovation
The Fortifying Shampoo of the Physiogenina line, specific for restoring thinned and weakened hair of men and women, carries out its precious nourishing and strengthening action thanks to specific, carefully selected, active ingredients.
The core formulation is the innovative complex Physiogenina developed by Giuliani Anti-Hair Loss Research. In vitro studies have been shown that this complex is able to promote the physiological process of cell self-repair, which is crucial to support the well-being of hair follicle and scalp and, therefore, the hair growth phase.
The new Tricovel® Physiogenina Fortifying Shampoo formula is enriched with specific ingredients that act on the hair fibre:
The wheat protein has a repairing effect on it, and, at the same time, gives shine and softness to hair.
A combination of Panthenol and Betaine nourishes and moisturises hair, protecting it from external stress (hairdryer and brush).
Tricovel® Physiogenina Fortifying Shampoo acts on the hair thanks to a patented release technology that enhances the effectiveness of active ingredients, prolonging their action.
The new Tricovel® Physiogenina Fortifying Shampoo formula also includes a delicate cleansing system of the latest generation, which allows to remove impurities while respecting the hydrolipidic balance of hair and scalp. The presence of special conditioners reduces to a minimum the friction between the fibres, reducing risk of hair weakening and breaking during washing.
When, how
When to use?
In case of weak, fragile and brittle hair, therefore with a tendency to fall out, due to factors such as stress, season changes, incorrect diet and sun exposure. Tricovel® Fortifying Shampoo with Physiogenina is suitable for daily use.
How to use?
Apply the product to wet hair, massage gently, leave to work for a few minutes and then rinse thoroughly.