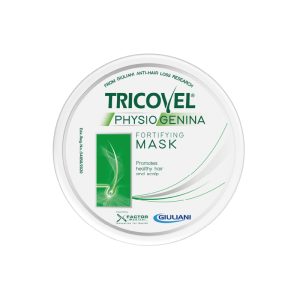 Tricovel® After-Shampoo Mask with Physiogenina
Restructured and protected hair thanks to Tricovel® Fortifying Mask with Physiogenina, a cutting-edge complex with unique action, fruit of the most recent innovation from Giuliani.
From time to time and like the skin, hair needs intensive treatment to be deeply regenerated and nourished. For this reason, a fortifying mask can't miss from a complete and accurate hair wellness programme that really cares about your hair health and beauty.
Tricovel® Fortifying Mask with Physiogenina is an innovative fast-acting mask for weak, fragile and brittle hair with a tendency to fall out. It is part of the new fortifying cosmetic line containing Physiogenina, a cutting-edge complex developed starting from the most recent discoveries of Giuliani Anti-Hair Loss Research. Ideal to complete, after the shampoo, your hair care routine, Tricovel® Physiogenina Mask is recommended to complement and enhance the action of Tricovel® Shampoo and Vials.
The new Tricovel® Physiogenina Fortifying Mask formula has been tested under dermatological control to minimise the risk of allergy.
Restructure your hair with the advanced formula of Tricovel® Fortifying Mask with Physiogenina!
Innovation
Tricovel® Mask to nourish hair is a fortifying after-shampoo treatment, which performs its rapid and intensive action thanks to a formulation rich in unique and patented components.
Core of its formulation is the innovative complex developed by Giuliani Anti-Hair Loss Research:  Physiogenina. In vitro studies have shown that it is able to promote the physiological process of cell self-repair, fundamental to support the well-being of hair follicle and scalp and therefore the growth phase of hair.
The formula is completed with active ingredients with a targeted action on the hair fibres and scalp:
A pool of amino acids performs a repairing action on damaged cuticles (the outermost layer of the hair):e at the same time it restructures and coats the hair fibres, protecting it from external stress such as those caused by the use of hair dryer and brush.
A mix of ceramides, similar to the lipid structure of the scalp, helps keep it hydrated and healthy.
Latest generation conditioners discipline hair without weighing it down
Last but not least, the patented release technology ensures that active ingredients adhere to hair and scalp, resisting rinsing for a more and more effective and long-lasting action.
When, how
When to use?
In case of weak, fragile and brittle hair, therefore with a tendency to fall out due to factors such as stress, season changes, imbalanced diet and sun exposure.
How to use?
Its special creamy texture makes its application easy over the entire length of hair, up to the scalp, with which it is important to facilitate contact.
Just 3 minutes on damp and towel-dried hair, after shampooing,  are enough to have it restructured and protected, visibly more beautiful and healthy. Rinse thoroughly after application. It does not leave any residue.
It is recommended to use Tricovel® Physiogenina Mask 1-2 times a week.