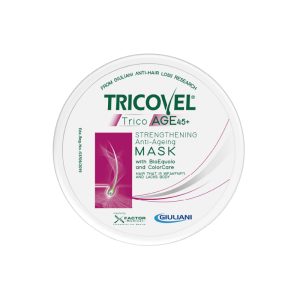 Tricovel® TricoAGE45+ Strengthening Anti-Ageing Mask: for shining and younger looking hair
The application of a post-shampoo mask is one of the essential moment of every cleaning routine that really cares for the well-being of women's hair. In particular when, over the years, hair becomes weaker and thinner and seems to lose its softness and brightness typical of youth and it is essential to apply a specific mask to strengthen hair.Tricovel® TricoAGE45+ Strengthening Anti-Ageing Mask is the post-shampoo intensive treatment created by Giuliani Research to respond to the needs of women's hair, which, during the peri- and menopause period, loses its body, volume, becomes dry, dull and tends to fall out. Together with TricoAGE 45+Shampoo and Conditioner, the Strengthening Mask for weak and thinning hair is the essential cosmetic complementary product to restore its shine and radiance, while supporting at the same time the action of Tricovel® TricoAGE 45+ Tablets and Vials.
Innovation
The anti-ageing, rapid and intensive action of TricoAGE 45+ Mask is made possible by its composition based on:BioEquolo – the exclusive combination of natural selected extracts of Ajuga Reptans and Fermented Soy, which helps to counteract hair thinning caused by ageingBiogenina – the exclusive active ingredient that fortifies and nourishes the hair fibreColorCare – innovative complex that protects hair, provides brightness and prolong hair colour duration thanks to specific cermides that coat the hair fibre and an active ingredient with anti-oxidant properties that protects it from free radicals.Thanks to patents and innovative active ingredients, Tricovel® TricoAGE 45+ Mask nourishes, moisturises and strengthens hair, making it brighter and easier to comb.Dermatologically tested.
When, how
When to use?
The product is for women's hair that over time becomes weak, thin, dry and dull.How to use?Apply Tricovel® TricoAGE 45+ Strengthening Anti-Ageing Mask after shampoo to damp towel-dried hair. Leave in for 3 minutes, rinse thoroughly. Its creamy and light texture facilitates application and rinsing.