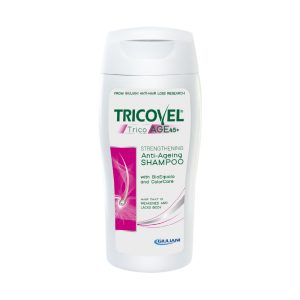 TricoAGE 45+ Strengthening Anti-Ageing Shampoo: against women's hair thinning
Soft and luminous hair enhances beauty and charm; hair is part of woman's identity and taking care of it is fundamental to enhance elegance and femininity. Over the years, however, hair may lose its original appearance: the brightness typical of youthfulness decreases, the fibre dries out and hair thinning becomes more evident.
Tricovel® TricoAGE 45+ Strengthening Anti-Ageing Shampoo is a fortifying shampoo specifically indicated when women's hair thinning visibly affect the quality of entire hairstyle. In fact, in peri- and menopause, hormonal changes can compromise the well-being of hair, which gradually loses its density, body, strength and shine.
By supporting the nutritional and anti-hair loss action of the Tablets and the Vials of the same line, Tricovel® TricoAGE 45+ Strengthening Anti-Ageing Shampoo gently cleanses scalp and hair without altering the hydrolipidic film and has a revitalising effect on the fibre. Its rich and creamy texture restores hair softness and body.
More strength, density and shine: cleanse your hair with Tricovel® TricoAGE 45+ Strengthening Anti-Ageing Shampoo!
Innovation
The strengthening and anti-ageing activity of TricoAGE 45+ Shampoo on weak, dry and opaque hair is guaranteed by the presence, in its formulation, of exclusive active ingredients and patented complex, result of Giuliani Anti-Hair Loss Research:
BioEquolo – combination of natural selected extracts of Ajuga Reptans and Fermented Soy, which helps to counteract hair thinning caused by age
Biogenina – active ingredient that fortifies and nourishes the hair fibre
ColorCare – complex consisting of active ingredients with antioxidant properties, which protects the hair fibre from free radicals, and specific ceramides, which coat the fibre, to protect hair, provide brightness and prolong hair colour duration.
Dermatologically tested.
When, how
When to use?
The product is suitable for women's hair that over the years becomes weak, thin, dry and dull.
How to use?
Apply the product on wet hair, massage gently and then rinse thoroughly. Suitable for frequent use.