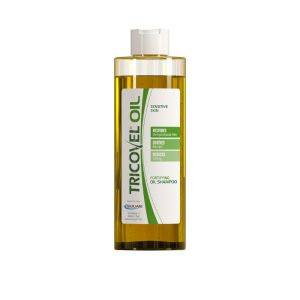 Tricovel® Oil Fortifying Shampoo: protected scalp and hair
Tricovel® Oil Fortifying Shampoo is the best cleansing solution 
to relieve the annoying symptoms of sensitive scalp 
and when hair is weak and brittle due to stress, imbalanced diet, sun exposure or seasonal changes.There are many external factors that can attack our scalp, without our knowledge: prolonged exposure to smog or UV rays and use of aggressive cleansing agents can compromise the natural protective barrier of the skin. The oxidative stress induced by these factors compromises the skin hydrolipidic film, causing 
itching, tightness and redness
. If cleansed with a specific shampoo, sensitive scalp can regain its natural protection and reinforce itself, in order to more effectively resist attacks from external factors.
Active-Care Technology
Tricovel® Oil Fortifying Shampoo is an oil-shampoo for sensitive skin that protects the skin and restores its natural hydrolipidic balance, and also helps to strengthen brittle hair by protecting it from oxidative stress induced by external factors. The Oil Fortifying Shampoo, adjuvant cosmetic complementary product to anti-hair loss treatments, contains CronoBiogenina® patent, specifically studied by Giuliani Anti-Hair Loss Research for brittle and weak hair, with a tendency to fall out.The Active-Care Technology, core of Tricovel® Oil line, takes care of the skin by restoring and strengthening its natural protective barrier.
Effectiveness
The effectiveness of Tricovel® Oil Shampoo has been proven by the results of a clinical trial conducted on subjects with sensitive skin. The use of the product after 2 weeks has shown:
reduction of erythematous manifestations
reduction of itching
reduction of tingling / burning
When, how
When and how to use?
The fortifying formula of Tricovel® Oil Shampoo for sensitive scalp is recommended for all types of weak and brittle hair and, thanks to its gentle action on the skin, is also recommended for daily use.