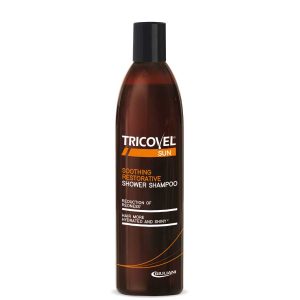 Shampoo with a soothing and moisturizing formula , able to reduce skin redness and, thanks to a pool of nutrients, to rehydrate hair and skin exposed to the sun, making the hair light and shiny and the skin soft. DESIGNED FOR Women and Men.
Innovation and Formulation
Delicate cleansing system gently cleanses, eliminating residues of salt and chlorine from the hair, respecting its physiology without drying out.
 Contains a pool of nutrients which rehydrate hair and skin, compensating for dehydration due to exposure to the sun and salt / chlorinated water, making the hair light and shiny and the skin soft.
Without SLES, SLS and parabens.
Effectiveness
Reduction of skin redness 10 times greater than non-cleansed skin *.
Hair 3 times more hydrated and shiny than untreated hair. **
*in vivo test conducted under dermatological control.
** Instrumental tests on hair under dermatological control.
When and How
When it is indicated:
Indicated to soothe and rehydrate skin and hair after exposure to the sun, restoring their softness and shine.
Also for frequent use.
How to apply:
Emulsify the product with water, cleanse the body and hair and then rinse.